---
---
With this Crystal Building UV Gel, save your time and money for nail salons, and you can create various beautiful extension nails or other nail art designs. It comes in an exquisite package. A nail drill machine will save you time and help to remove the nail faster and cleaner.

It's all in one Poly Nail Gel Set, this all in one gorgeous poly nail extension gel starter kit includes different amazing colors, can create any special builder nails which satisfy all the basic tools, even come with a 48W nail lamp to start for DIY your extension gel nail art at home.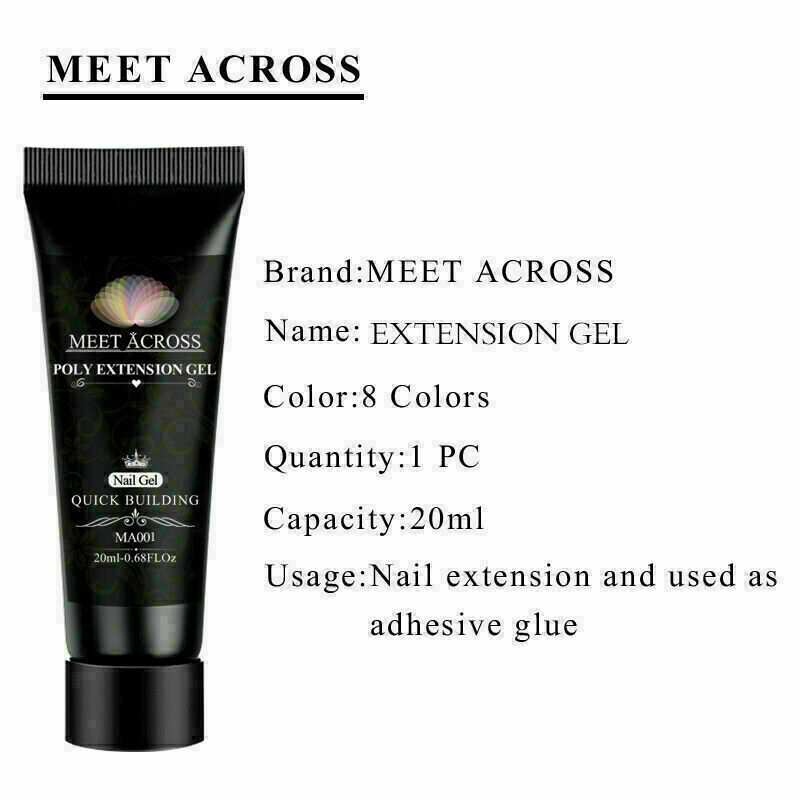 This
Nail Gel Kit
is quick building and long-lasting. Poly extension nail gel is an amazing formula and is much stronger than builder gel. Lasts up to one month when following our instructions step by step and applied appropriately. T
he instructions for using the extension gel are detailed and yet simple to understand.

Key Features:
100% new retail and high quality

Is an excellent gift choice for Valentine's Day.

Suitable to apply on UV gel nails, acrylic nails, and natural nails etc.

Help strengthen your nails with a durable shiny coat

Perfect for both professional use and personal use
Quantity: 1 Set
Capacity: 20ml
Color: As the Picture Shown
How to use:
File the nail surface lightly
Apply a very thin layer of base coat, and cure it under UV/LED lamp.
Select a suitable shape & size false nail tip.
Apply Building Gel on nail mold, use nail art pen with Slip Solution to make gel smooth.
Stick it to your real nail and make sure it fully plying-up, and cure it under UV/LED lamp.
Remove the false nail tip, trim the shape and polish your nails.
Apply top coat and cure it under UV/LED lamp.
Design your nail with your satisfied patterns.
Avoid extension nail from falling off:
After apply quickly building gel on the false nail tip, use a brush to pick up a little Liquid Slip Solution, then brush the building gel evenly on the false nail tip.
When sticking a false nail tip to your real nails, you'd better make sure the false nail tip can be totally attached to your nails so that the extension nail won't fall off from the nail edge.
1Bottle 20ml Extension Gel

+1Bottle 20ml Slip Solution

+40Pcs Mold Tips

+1Pc 6W Lamp

+1Pc Nail Brush

+1x Base Coat

+1x Top Coat

+1x Nail file buffer